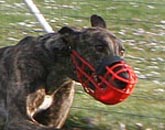 Manolo
lassie
coloured walking muzzle
light plastic muzzle
very deep
very broad also in front
solid
very confortable because of the plain bottom
one size fitts all
adjustable neck leather strap
closed on the botton and in front preventing the dog from eating rubbish and leaking wounds
good alternative to the protectiv collars for insured dogs
with leather nose guard
available in the following colours: Black, White, Silver-Grey, Red, Navy, Light Blu, Yellow, Pink, Purple, Orange, Brown, Lime Green, Gold, Dark Green, Lilac and Teal
the colour of the leather changes!
Maulkorb, lassie, Freizeitmaulkorb, Freizeit, Spaziergang, Beisskorb, Windhund, Azawakh, Afghane, Sloughi, Saluki, Greyhound, Whippet, Galgo espanol, Italienisches Windspiel, Deerhound, Irischer Wolfshund, Barsoi, Chart Polski, Tazi, Taigan, Rhodesian Ridgback, Dalmatiner, Deutscher Schäferhund, Malinois, Belgischer Schäferhund, Maulkorb, Maulkorb, Beisskorb, Beisskorb, Halskragen, Trichter
sizes and measures
depth: 13,0 cm
large: 7,5 cm
long (basket): 9,0 cm
long (bowes): 12,0 cm
extension for the neck strap: for Afghan dogs, Borzoi, etc. (sighthounds with more than 27cm length of head), or for dogs with long or a lot of hairs, like long haired Collies, or for dogs with broad head

extra strap - 25cm
stardard strap- 13cm

lassie with extra strap - max. 38cm
how to measure the dogs head
price

| | |
| --- | --- |
| strap | price |
| lassie | EUR 17,00 |
| extra strap | EUR 1,00 |
If you are not sure about the size please contact me!